Welcome to Port Royal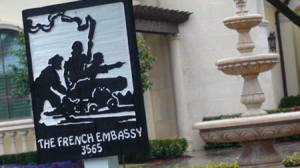 Port Royal, named for a 17th century port city in Jamaica notorious for its lavish displays of wealth, is one of the most prestigious communities in the world. A tranquil area boasting estates comfortably nestled at the southern end of Naples, lounging between Naples Bay and the Gulf of Mexico, where fresh, ocean and sand scents greet the doorways of resident's homes. This luxurious locale was first developed in the late 1940s and early 1950s. As it's founder and visionary, John Glen Sample once said, Port Royal "is a showplace of casual elegance" where the houses are a variety of "small jewels" ranging from 3000 to 12,000 square feet in size. Every section of this area is crafted along very wide canals lined with clever street names and harbors evoking 18th Century pirates that used Southwest Florida as a safe haven between looting adventures.
Names like Spyglass Lane, Rum Row and Man of War Cove give a lively personality to the Port Royal neighborhoods that now serve as hidden treasures among the palm trees. While pirates have taken their travels elsewhere in modern day, residents here still have access to many docks and deep waterways that host a plethora of boats and yachts.
A main attraction of this oceanfront Utopia is the beautiful Port Royal Club, located on a serene stretch of Gulf-front beach directly across from the Galleon Drive entrance to the community. Membership in the club is primarily limited to Port Royal property owners, who have access to nine tennis courts, complete formal and informal dining facilities, and an Olympic pool. The Port Royal club also contains a clubhouse that can host up to 300 guests, and celebrations for holidays and other important national and local dates can be enjoyed year-round.
Port Royal embodies the perfect retreat for the social elite, a paradise getaway marked by manicured lawns, glorious flower gardens, serene waterfront views and timeless sunsets.
Are you looking for a home in paradise? Perhaps visiting a friend in Port Royal or maybe you already live here? No matter why you searched for the words "Port Royal Florida" I sincerely hope you find what you are looking for here whether it's information on shopping, local events, our history, local art galleries, fishing or buying or selling a home in the local area. If not, please feel free to contact me and we will add that information for you and everyone else in the local community.
Hi,
My name is 
. My husband Michael and I would be happy to pick you up at the airport, take you to look at homes in Port Royal from land, along the beach and even from a boat. Afterwards we would be happy to take you for lunch or dinner at the Port Royal Club or one of the fine establishments in the nearby area. If we have time we could even go shopping at one of my favorite boutiques or Mike would enjoy taking you fishing in the most tarpon friendly waters in the USA right off Port Royal.
We look forward to meeting you,