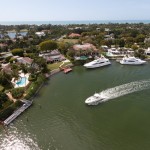 Today, Port Royal Florida is one of the finest places in the world to live and can be defined as being the playground of rich and famous people.
Port Royal Florida is a collection of luxury homes that range in size from 3,000 square feet to 15,000 square feet; and this quiet, private community is considered one of the finest in Naples and, in some circles, around the world.
Most Port Royal Homes provide boating enthusiasts with their own deep-water access and the residents also have the possibility of access to the Port Royal Club which provides entertainment, exercise and relaxation opportunities.