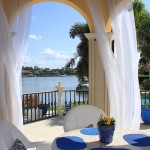 Port Royal is playground to the affluent who enjoy Beachfront and Waterfront homes. With the unique characteristics which define Port Royal Real Estate itself, the tax friendly laws of the state of Florida, and the ease of access via the nearby Southwest Florida International Airport and Naples Private Jet Port, the community has become "Home" to an elite group of individuals from around the world.
Beachfront properties in Port Royal are the most desirable and therefore, highest in demand. There are approximately 51 beachfront estates in Port Royal and on the water canals, 540 and 60 on landscape or lakefront. Port Royal is one of the few areas that has navigable waterfront lots, provides outstanding attractive wide water views and affords exceptional space for private docking of pleasure craft.
The drive through Port Royal is impressive, with mature trees canopying the streets and every street name with a custom carved sign in black and white of a pirate or a ship and treasure. It is rich with history and great stories of those who once lived here… and those who now have discovered Port Royal.
The Real Estate properties date back to late 1950′s and diverse with each home being wonderfully unique. Several new homes have been built, as Port Royal is in transition, with buyers who love the Port Royal life style and want to stay or move family and friends here.
Port Royal is close to downtown and the finest restaurants and shops. The greatest amenity of Port Royal is the Port Royal Private Beach Club and Tennis/Fitness Center. The center, with its child friendly programs and competitive tennis programs, is a great attraction for families. The personal service of the Port Royal team of professionals is world class. The chef is a genius and the Port Royal events the finest in the world. It's one of the finest clubs in the world and tucked away on the white sugar sands overlooking the Gulf of Mexico. Swaying palm trees and gentle breezes are all yours, forever and ever.